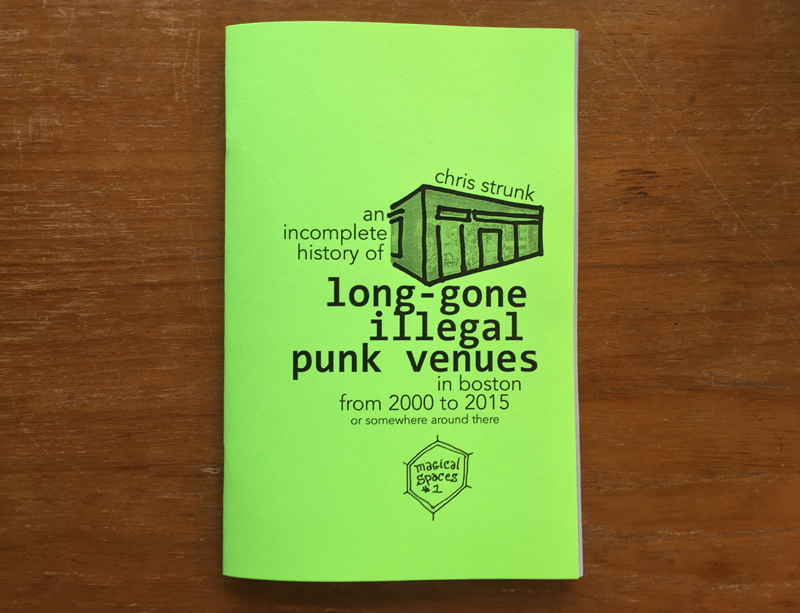 Long-gone illegal punk venues
Boston has had more than its share of underground punk venues, and scene veteran Chris Strunk is here to take us on a tour of almost 50 of them.
In addition to sharing his memories of these spaces, Chris provides an overview of the scene, where it came from, and where he sees it headed.
Along the way, Chris gives us a bunch of fascinating insights-from the fresh energy a feminist house brought to the table, to the community's failed hopes for creating an all-ages, aboveground space. He also tells some pretty memorable stories, like being at a South Boston gig raided by the FBI; and finding himself the only person who showed up to help clean a moldy basement venue.
This zine is part of Free the Future Press's "Magical Spaces" series, which takes a look at Boston's DIY and underground cultural spaces-everything from punk basements to artist lofts.
Written by:
Chris Strunk, with photos by Al Quint and
Jonah Livingston
. Designed and printed by Tim Devin.
Published by:
Free the Future Press
Details:
40 pages. 11 photos. Lime green cardstock cover, with gray interior pages. 5.5" wide x 8.5" high.
Date:
2020.
Buy the book!
OUT OF PRINT. Sorry.
Photos