Starting in March 2011, I began putting broadsides (small posters) up around the Boston area (and some in Los Angeles, too). I call them BBC Broadsides. So far, these come in three flavors: Mappy Facts; Poems by Paul Johns; and Street Surveys.
Street Surveys ask questions that people can answer by removing a slip of paper.
Here are PDFs of the flyers, if you'd like to download them, print them and put some up near you:
-"do you wish you knew your neighbors better?"
-"do you feel you have a say in local politics?"
-"i live nearby & i'm concerned about..."
-"do you feel a sense of community where you live?"
-"do you identify with where you live?"
-"do you talk to your neighbors?"
-"how many strangers do you see every day that you recognize?"
-"would you raise a kid around here?"
Scroll down to see the posters themselves.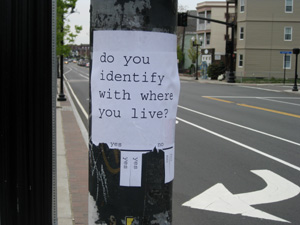 Return to the BBC Broadsides page.
See the Mappy Facts posters.
See Poems by Paul Johns.
See photos of the broadsides on the street.