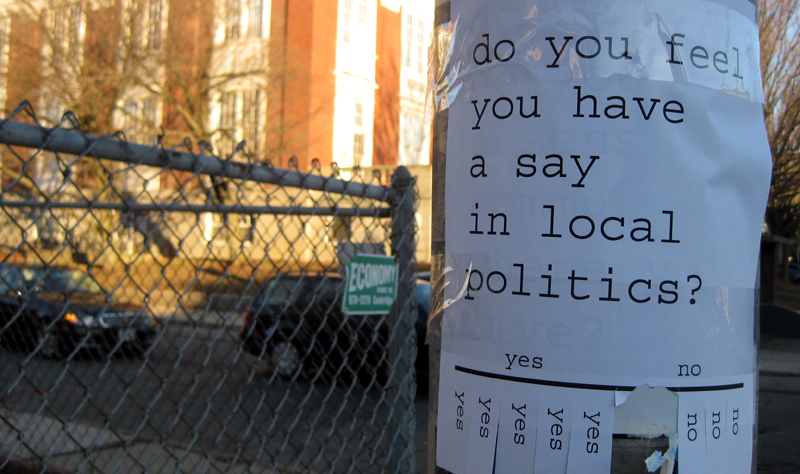 Nov. 19, 2015
Tonight! Join the Boston Institute for Nonprofit Journalism & Getting by in Boston to
discuss
the tough economics of being an artist in MA & how we can change it.
Oct. 21, 2015
Today's the day that Marty McFly visited the future in the 2nd "Back to the future" movie.
How did Somerville residents' predictions compare with Spielberg's? Take a gander at my
"History of Somerville, 2010-2100"
to find out!
Oct. 12, 2015

Welcome my new website!

It's got an entirely new design, and is responsive to mobile devices. It also has some new content. Enjoy?
Sept. 28, 2015
Alexa Mills wrote a great piece on artists getting priced out of Somerville for MIT's Urban Planning department's website. It includes a quote or two from yours truly. Take a look
here
.
Aug. 21, 2015
Pyragraph
republished an article
I wrote about Getting By In Boston's first year. Thanks for helping spread the word, Pyragraph!
Aug. 10, 2015
Here's a sneak peek
at my new project, "
behind the black boxes
."
The project looks at the heavily-redacted 2012 report on the FBI's involvement in the PRISM surveillance program-- and tries to fill in the black boxes through research and interviews. Interview subjects include an ACLU expert on privacy; an FBI agent protrayed by Heather Kapplow; and a tarot reading by the Center for Cognitive Chaos & Astral Physics Research.
Full project coming soonish...
July 27, 2015
Here's
my new newsletter. Full of info on recent events I helped organize, articles I've written, and other things I've been involved in-- and a teaser about a new project I'm about to release. Enjoy!
July 15, 2015
I got a copy of Nicholas Ganz's new book, "Street Messages," today. The book presents street art that involves text, and includes work by Banksy, Jenny Holzer, Candy Chang, Billboard Liberation Front... and me! Pretty crazy. Get yourself a copy
here
!
June 9, 2015
Getting by in Boston
had its first birthday last week. GBIB is a loose network of creative people, concerned about how to get by in our expensive city.
Here's an article
I wrote about it how it started; what issues people have been discussing; what groups have formed out of it; and what the outcomes have been.