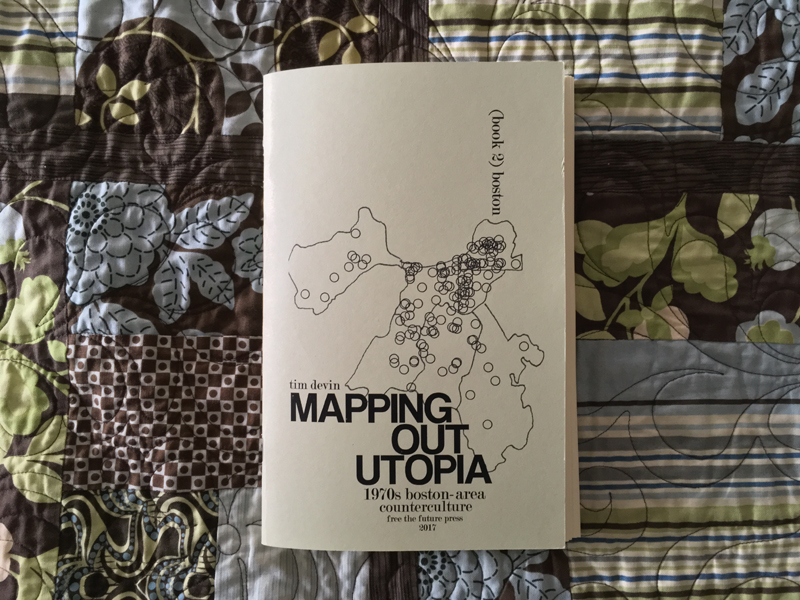 Mapping out utopia: 1970s Boston-area counterculture
book 2: Boston
MAPPING OUT UTOPIA is a three-part look at the Boston area's 1970s counterculture, based on listings found in old countercultural directories and magazines.
Each volume of MAPPING OUT UTOPIA maps out a different part of the city. This one takes a stab at the heart of the region: BOSTON.
This volume offers overviews of almost 200 orgs, eleven hand-drawn maps, and a number of in-depth overviews on topics including Gay Liberation, black separatism, and church basements as countercultural command centers.
From Operation Black to the Recycling Revolutionary Coop, it's all in here.
Published by:
Free the Future Press.
Details:
108 pages. 26 illustrations + 11 hand-drawn maps. Green cardstock cover, with off-white interior pages. 5.5" wide x 8.5" high.
Date:
2017.
Other books in this series:
Vol. 1 on Cambridge
here
Vol. 3 on the surrounding communities (including Somerville, Brookline & Newton)
here
Buy the book!
Price:
$12.00 + $3.00 shipping and handling
in the U.S. only.
For people outside of the U.S., shipping will vary, so please email tdevin @ yahoo.com
Buy all three books!
And save some money
here
.
Photos of book 2